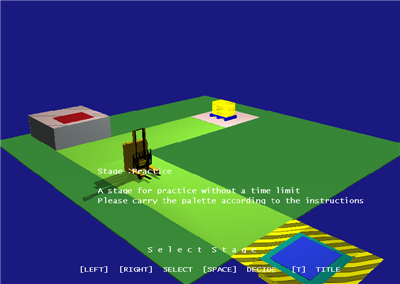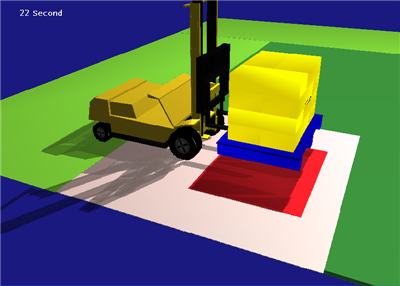 SimLift (515kb ver4.3 made 08/06/2014, no install .zip) is very small Japanese 3d forklift simulation freeware game with a choice of 2 types of forklift, a practice level and a handful of stages to complete within the time limit. The game also has a level save feature which is a nice touch and a choice of many screen resolution in fullscreen and windowed mode. Some background scenery would've been nice but what is there is well done. Overall it's an interesting coffee break game but quite difficult and for me it wasn't a keeper. It may not appeal to most gamers, mainly the curious.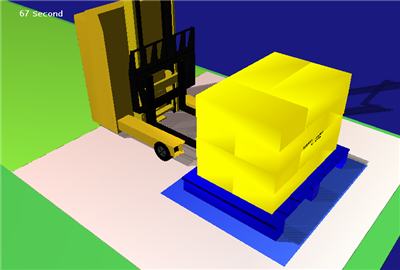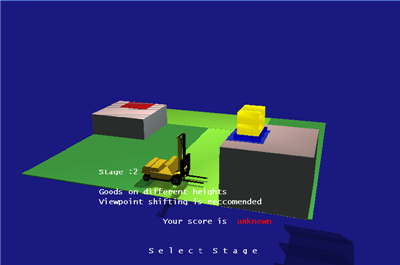 This game should play on most Windows computers.
Controls
Forklift Controls
Arrow keys - Movement
A key - Forks up
S key - Forks down
Z key - Tilt forks back
X key - Tilt forks forward
Electric Pallet Walker Controls
Shift key and arrow keys - Movement
Z key - Tilt forks back
X key - Tilk forks forward
A key - Forks up
S key - Forks down
F key - Move forks forwards
D key - Move forks backward
U key - Restart level or quit to game menu
Esc key - Exit game
Game Download Page
http://www.freem.ne.jp/dl/win/6939
_________________
Keep on gaming!
Consoles Currently Owned: Atari Lynx, Nintendo Gameboy Original, Gameboy Advance SP, Nintendo DSi, 3DS, Nintendo Wii, Micro Genius, Sega MegaDrive II, Sony PlayStation, PS2, Microsoft Xbox, Xbox 360.
http://freewaregames.forumotion.com/f1-freeware-games