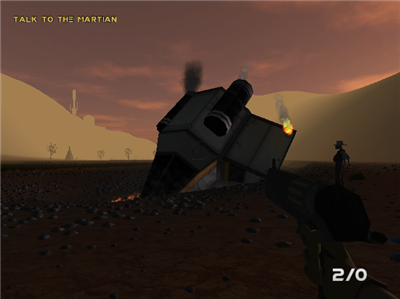 My ship had crashed and the only intelligent lifeform around was an alien that told me to go to Jainestone, what other choice did I have. The sun was settling fast and I had one shot left in my gun as I had accidentally shot off one by mistake. This was not looking good, but in the distance I could see a settlement. Would there be life? If there was, would they be friend's or foe's? My mission was to get of this planet but I fear it won't be as simple as I first thought.
The only thing I knew for sure was, that I was Still Free...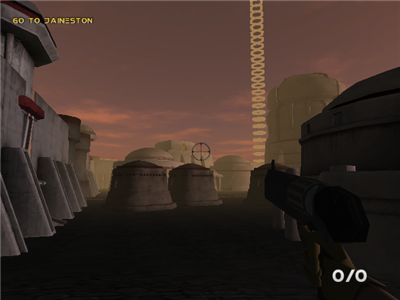 This short freeware game, a 3D FPS with a slight twist of exploration is a nice game, it did lack a little something... action. While there's a nice but sparse 3D environment to explore, there was no real action apart from a casual ride on a horse and hover bike. Once you find a settlement I couldn't work out for the life of me how to gain entry in to the buildings. I did pick up a glowing item but after nearly an hour, I had to give up. More sound effects could be nice too. What's there is nice, but the game could have given just a tad more info on what you needed to do. I think some gamers will enjoy this free game. It's only 1 thumb up from me but perhaps I'll revisit the game another night and try again.
Controls
Arrow keys or WASD keys - Movement, forward, backward, strafe left, strafe right
Mouse/touchpad - Direction, look up, look down.
Right click - Use iron sight
Left click - Shoot
E key - Jump on/off horses and hoverbikes
Shift key - Boost on horses and hoverbikes
Scrollwheel - Switch weapons
Esc key - Pause
Game Information
Game author - SudoRossy
Game version - 1.00
Game created - 2014 made for the Space Cowboy Jam
File size - 96.2mb
File format - zip, no install
Made with - Powered by Unity
Will play on - Most Windows systems
Game Download Page
http://sudorossy.itch.io/stillfree
*This free game is Donationware but don't fear. You can choose to download it for free at no charge. If you decide to keep it, please re-visit the website and donate what you feel is appropriate for the game to the game developers. If you decide to delete it after playing, then there's no harm done.
_________________
Keep on gaming!
Consoles Currently Owned: Atari Lynx, Nintendo Gameboy Original, Gameboy Advance SP, Nintendo DSi, 3DS, Nintendo Wii, Micro Genius, Sega MegaDrive II, Sony PlayStation, PS2, Microsoft Xbox, Xbox 360.
http://freewaregames.forumotion.com/f1-freeware-games