Caravan Star II (20.8mb ver1.03 made 19/11/2011, no install .zip) is a short and sweet Japanese 2D scrolling shooter with 2 timed level game modes, 2 minutes Preliminary and 5 minutes Final Contest. There's 3 player characters each with different shooting abilities and play speeds. While playing collect firepower power-ups and bonuses. Battle to the end of each of the 2 game modes to battle the level Bosses. There is a little more to this freeware game, please see the English ReadMe file.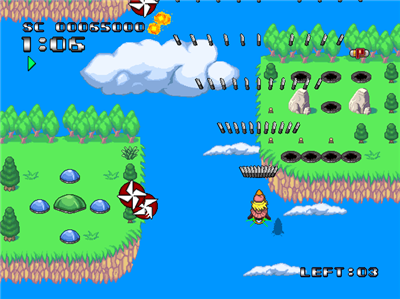 If you're in to your SHMUPS this could be a keeper but the game does leave you wanting more. It has great gameplay, sound effects and the usual Japanese voice sound effects which makes these games popular and also keep an eye out for some retro game characters from the past while playing. Nice one!
This game will play on most Windows systems XP, Vista 32 bit and 7 32 bit.
Controls
Movement - Arrow keys, mouse, gamepad
Weapons - Z key
Secondary weapons - X key
Fullscreen mode - Enter key
Character speed change (also Replay feature on Title Screen) - C key
Exit - Escape key
Homepage
Japanese website
http://nightstrikers.web.fc2.com/csii
Game Download
Vector Japanese website
http://www.vector.co.jp/soft/winnt/game/se493900.html
Click on the green Download Now button to download the game.
Alternative Game Download
FreeM Japanese free games website
http://www.freem.ne.jp/win/game/3516
Don't forget to checkout the original Caravan Star - KAI- freeware game found here
http://nightstrikers.web.fc2.com/csk
I think it's a little better and in the tradition visual style of Japanese SHMUP's although a lot harder than Caravan Star II. It is a beta version game with only one 2 minutes game mode but has 6 playable ships with varying abilities.
_________________
Keep on gaming!
Consoles Currently Owned: Atari Lynx, Nintendo Gameboy Original, Gameboy Advance SP, Nintendo DSi, 3DS, Nintendo Wii, Micro Genius, Sega MegaDrive II, Sony PlayStation, PS2, Microsoft Xbox, Xbox 360.
http://freewaregames.forumotion.com/f1-freeware-games