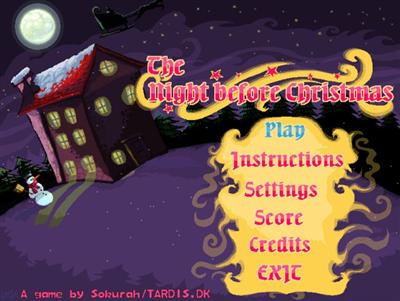 The Night Before Christmas is an Xmas inspired remake of the Mission Elevator game. A fun and at times frantic race to collect presents with your Santa character and place under the Christmas tree. Sounds easy huh? Well you will also need to make sure that there's not too many children awake while collecting presents. You have an alarm clock that will notify you when 65% of the children are awake. To fix this problem, you have your trusted sleep gun to send them back to bed.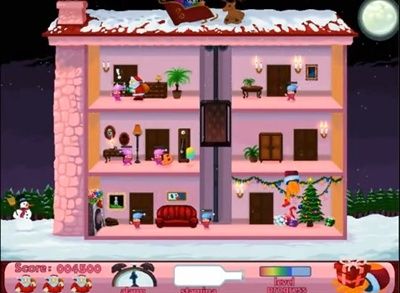 This isn't the end of your problems, as we all know, children will eat a lot of food and while they are up, they will eat the Christmas goodies. The more they eat, the fuller they get and when they are full it will be harder to sent them back to sleep and more zapping will be needed. With all this running around, your Santa character needs to eat as well to keep his stamina up. To do this, eat the milk and cookies. Luckily the kids know what Santa likes so they won't eat and drink these. To move around each of the house levels, use the center lift. You have limited control of the lift. Once you step in it you can press up or down to go to the level you want. A great Christmas freeware game for the whole family. Try to get the highest score.
Freeware game v1.0 made December 23rd 2010 by Sokurah and downloads are available for Windows XP and above (5.32MB) and Apple Mac OSX (Intel), (5.8MB).
Controls
Use the Arrow keys to control Santa and the Left Control to shoot your sleep gun. All keys can be redefined.
The Tab key will toggle fullscreen mode on or off.
Before you start the game, you can personalise your name by pressing Enter key. Esc key when you have finished editing.
To exit the game while playing, press Esc key.
Homepage
http://tardis.dk/wordpress/?page_id=621
Also check out the other retro game remakes from Tardis Remakes.
_________________
Keep on gaming!
Consoles Currently Owned: Atari Lynx, Nintendo Gameboy Original, Gameboy Advance SP, Nintendo DSi, 3DS, Nintendo Wii, Micro Genius, Sega MegaDrive II, Sony PlayStation, PS2, Microsoft Xbox, Xbox 360.
http://freewaregames.forumotion.com/f1-freeware-games