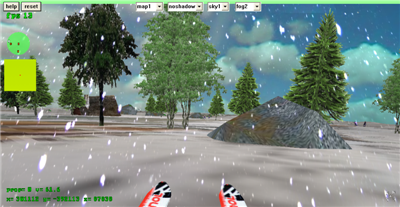 Ski Chung (12.5mb made 2014 by NGUYEN.Chung, no install .zip) is a decent 3D skiing simulation in OpenGL with a twist. Not only can you ski but also drive a car. There is a very large ski area with 99 maps to take you to all points with the ability to start anywhere on the map as well as 15 varying fog effects, shadows or no shadows and 3 sky effects. When you do a ski run, look out for chair lift icons that will take you to the top of a run. You won't actually see yourself going up on the chair lifts but still a nice touch to get back up top. At the end of the day this freeware game should keep your interest for a couple of hours at least.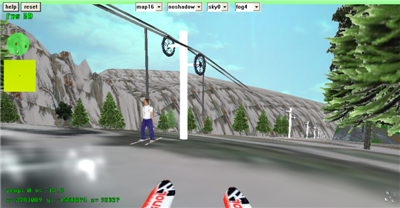 Arrow keys - Movement left. right, forwards, backwards.
Shift keys - Push forward with ski poles (not needed, use arrow keys)
V key - View
K key - Change from skiing to driving a car
Space bar - Horn while in car
L key - Lighting effects
M key - Map (click mouse to teleport)
Ctrl + M key - Satellite map (click mouse to teleport)
R key - Reset
F1 key - Help
Escape key - quit
F3 key - Change time of day
Joystick and gamepad supported. For more info and keyboard commands press F1.
Homepage
http://chungswebsite.blogspot.com.au
Game Download Page
http://sourceforge.net/projects/skichung
_________________
Keep on gaming!
Consoles Currently Owned: Atari Lynx, Nintendo Gameboy Original, Gameboy Advance SP, Nintendo DSi, 3DS, Nintendo Wii, Micro Genius, Sega MegaDrive II, Sony PlayStation, PS2, Microsoft Xbox, Xbox 360.
http://freewaregames.forumotion.com/f1-freeware-games