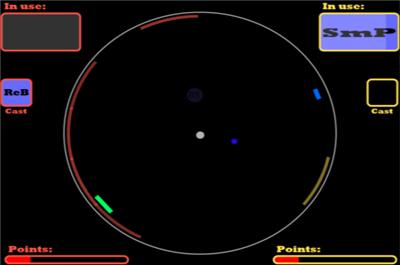 Circle Pong (4.9mb ver1.0, no install .7z) is a simple game of Pong within a circle with a few elements of another popular bat and ball game. This freeware game was made with ORX Game Engine and is for Windows only. It has 2 game modes, single player and multiplayer. To change a few more settings, open the circlepong configuration setting file, edit and save. The game plays smooth and visually it's ok, but it could do with some more eye candy. Not a bad game and for the very small download size, no one can complain, but it wasn't a keeper for me. Only the Pong fanatics will store this one away for future playing. A good solid coffee break game.
Controls
Arrow keys up and down - Menu movement and player movement
Enter key - Start game
A key - Menu select and player trigger action
Multiplayer
Left Player R,F keys - Movement
A key - Player trigger action
Right Player up and down arrow keys - Movement
M key - Player trigger action
There doesn't seem to be an exit key assigned for this game while in play, if there is, I haven't found it. To exit the game while still playing, press your Windows key and shut down the game from there.
Direct Download Link
http://dl.dropbox.com/u/25493305/CirclePong.7z
_________________
Keep on gaming!
Consoles Currently Owned: Atari Lynx, Nintendo Gameboy Original, Gameboy Advance SP, Nintendo DSi, 3DS, Nintendo Wii, Micro Genius, Sega MegaDrive II, Sony PlayStation, PS2, Microsoft Xbox, Xbox 360.
https://freewaregames.forumotion.com/f1-freeware-games