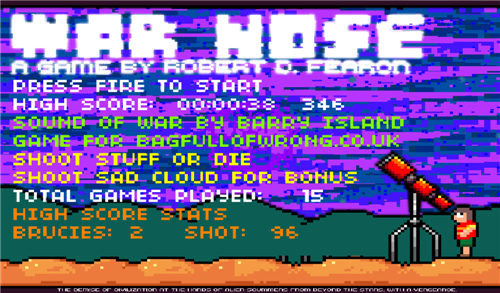 Don't expect to last long in this arena shooter freeware game. Chaotic mayhem is what I'd describe it as with retro style 2D visuals and sound effects. Shoot sad clouds for bonuses and get those Bruce Bonuses, in fact shoot everything. Survive as long as possible for a high score. It was fun while it lasted.
Controls
Arrow keys or joypad - Movement
Z key or button 1 - Shoot, start game
Esc key - Exit game
Game Information
Game author - Robert D. Fearon
Game version - 1.00
Game created - 08/10/2012
File size - 8.83mb
File format - zip or exe
Made with - ?
Will play on - Most Windows systems and Mac OSX
Homepage
http://bagfullofwrong.co.uk/bagfullofwords
Game Download Page
http://bagfullofwrong.co.uk/bagfullofwords
Scroll down the page until you see the direct game download link.
_________________
Keep on gaming!
Consoles Currently Owned: Atari Lynx, Nintendo Gameboy Original, Gameboy Advance SP, Nintendo DSi, 3DS, Nintendo Wii, Micro Genius, Sega MegaDrive II, Sony PlayStation, PS2, Microsoft Xbox, Xbox 360.
http://freewaregames.forumotion.com/f1-freeware-games