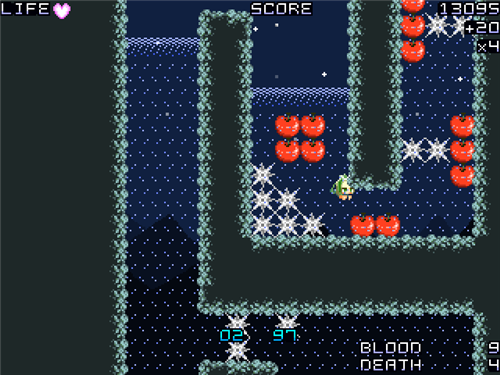 A fun yet short Japanese platformer with 5 levels to complete. Collect as many apples as you can in the quickest time possible for the highest score and to unlock the next level. You can bounce on certain blocks to reach higher places and pick up hearts for extra lives. Inferno 3 is a short and sweet platformer freeware game that will keep most amused for a while.
Controls
Z key - Start game, jump
X key - Go back in Menu options
Arrow keys - Movement
Alt key - Pause game
Game Information
Game author - Kinokaze
Game version - 1.01
Game created - 18/03/2015
File size - 6.31mb
File format - zip
Made with - WolfRPG
Will play on - Most Windows systems
Game Page
http://kinokazeblog.blog.fc2.com/blog-entry-36.html
Game Download Page
http://kinokazeblog.blog.fc2.com/blog-entry-36.html
The game download is just under the screenshots "<ダウンロード>"
Alternative Game Download Page
FreeM Japanese free games website
http://www.freem.ne.jp/win/game/8977
_________________
Keep on gaming!
Consoles Currently Owned: Atari Lynx, Nintendo Gameboy Original, Gameboy Advance SP, Nintendo DSi, 3DS, Nintendo Wii, Micro Genius, Sega MegaDrive II, Sony PlayStation, PS2, Microsoft Xbox, Xbox 360.
http://freewaregames.forumotion.com/f1-freeware-games