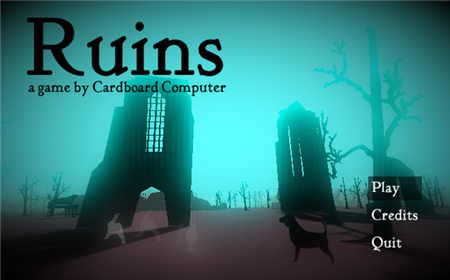 Ruins, a game by Cardboard Computer is a strange and small text based, story driven freeware game with unique game design. Actually I wouldn't really call it a game, more a short 3D single level interactive story with the emphasis on story rather than interactive. It seems to be about a dog and her owner. It has an atmospheric dream-like environment where you play as a dog chasing rabbits.
My first thought was perhaps one of them had passed away and they were meeting again together in one of their dreams but after playing it, I'm not so sure. If you're interested in a short story based game with some interactivity then you may find this enjoyable. It may even play on your emotions. Total play time ia about 15-20 minutes and the game developer says "
it's not not possible to see all the content in a single play-through
". On a final note, it is quite graphic intensive so a half decent computer or laptop is a must with a good 3D graphics card.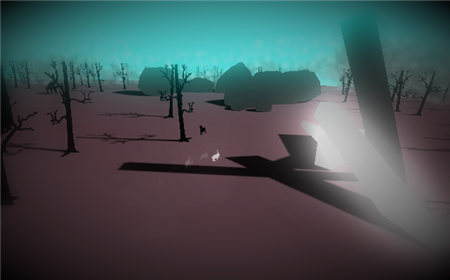 Controls
Arrow key - Movement
Space key - speed up text
Enter key - Select choice
Game Information
Game author - Cardboard Computer
Game version - 1.0
Game created - 11/10/2011
File size - 24.7mb
File format - zip
Made with - Unity
Will play on - Mac and Windows
Homepage
http://cardboardcomputer.com
Game Download Page
http://cardboardcomputer.com/games/ruins
_________________
Keep on gaming!
Consoles Currently Owned: Atari Lynx, Nintendo Gameboy Original, Gameboy Advance SP, Nintendo DSi, 3DS, Nintendo Wii, Micro Genius, Sega MegaDrive II, Sony PlayStation, PS2, Microsoft Xbox, Xbox 360.
http://freewaregames.forumotion.com/f1-freeware-games