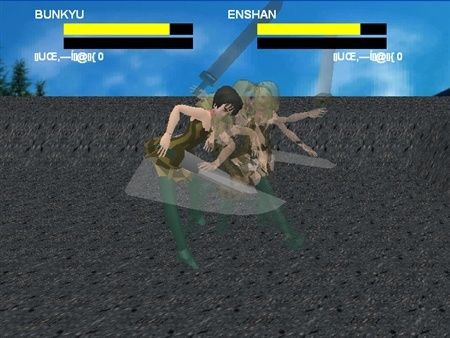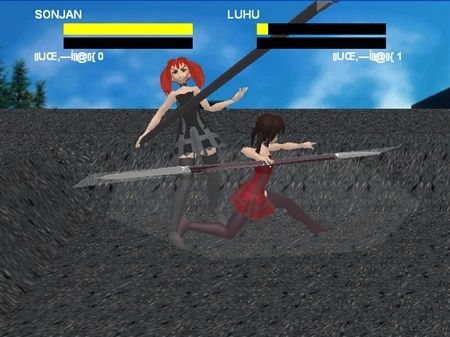 Although this Japanese 3D fighting freeware game looks promising from the screenshots, it's lacking in the playability department. With a nice choice of 4 different play modes and 5 different women fighters, some with different weapons and moves, playing this game was a little painful. in Vs CPU and the 2 Survival modes it's like a hit and run away type strategy. If you don't, you'll end up getting caught with your opponents who will continue to unleash their weapon upon you, getting away is difficult. It's your 1 hit to their 3, luckily you seem to have more power or strength than your opponents but this doesn't save this game from being an average 3D fighting game. A bit of fun can be had here but it's no Tekken.
Game modes are standard except for the 2 Survival modes. The first is fighting 3 of the same opponent at one time and you need to beat 30 of them to win. The other Survival mode is the same, however you need to beat 999 to win. There is only 1 fighting arena and it feels confined.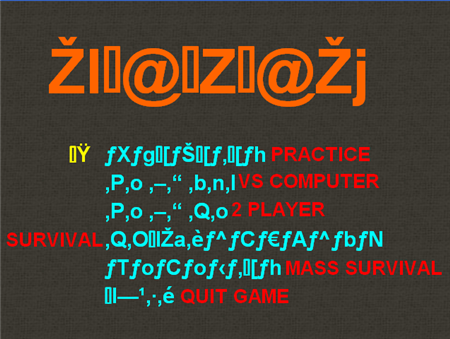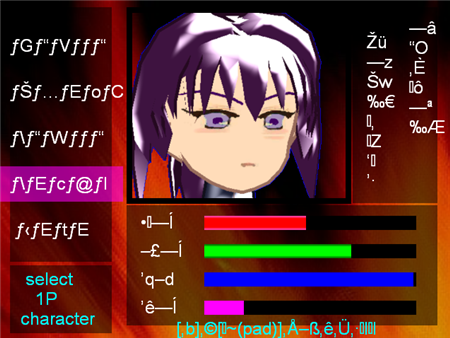 Controls
Player 1
B Key or Enter key - Start game
Arrow keys - Movement
Z key - Attack
V key - Attack 2
C key - Block
Esc key - Exit game
Player 2
U, H, K, N keys - Movement
R key - Attack
Q key - Attack 2
E key - Block
Game Information
Game author - Rocco's
Game version - 1.01
Game created - 18/09/2007
File size 5.47mb
File format - zip
Will play on - Most Windows systems
Homepage
http://www.geocities.jp/yonkoushi
Game Download Page
FreeM Japanese free games website
http://www.freem.ne.jp/win/game/1459
_________________
Keep on gaming!
Consoles Currently Owned: Atari Lynx, Nintendo Gameboy Original, Gameboy Advance SP, Nintendo DSi, 3DS, Nintendo Wii, Micro Genius, Sega MegaDrive II, Sony PlayStation, PS2, Microsoft Xbox, Xbox 360.
http://freewaregames.forumotion.com/f1-freeware-games