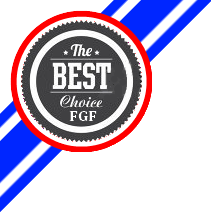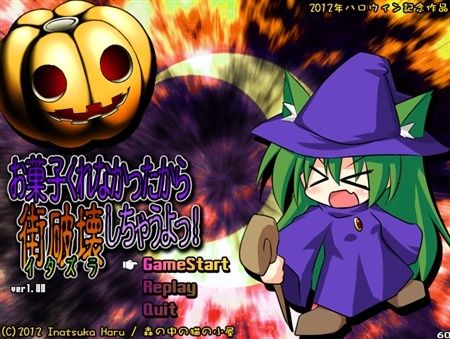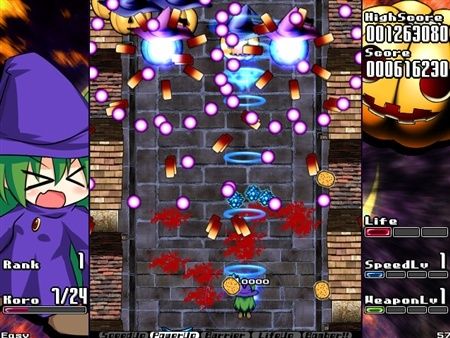 I seem to be finding more SHMUP's in recent times and Itazura is a fine example of this game genre. It seems to be a Halloween game and from what I could work out from the translation, the Fairy of Pumpkin Croquette did not get the candy to Halloween in time. The pumpkin will be mischievous because they didn't get candy, is that possible? The Fairy was bestowed with mysterious powers and has decided to destroy the mischievous pumpkin and all other enemies.
I found it difficult to find the exact translation of the games name, it was long and whacky, so for now we'll just call it by the downloaded game file name (HW Itazura) Itazura, unless you know Japanese and can translate it exactly.
Nice eye candy graphics, enjoyable in-game music and sound effects, good gameplay with 3 game difficulty settings. You have a handful of bonus items which can be activated by collecting the falling items from destroyed pumpkins. Just keep an eye on the bottom of the screen to see which bonus is highlighted and press the X key to activate. Bonuses range from SpeedUp, PowerUp, Barrier, LifeUp and Bomber. You will need to master the bonus item activation to progress through this SHMUP game or you will not last long. A very nice and well polished Japanese freeware game that will keep most shooting gamers happy for a while.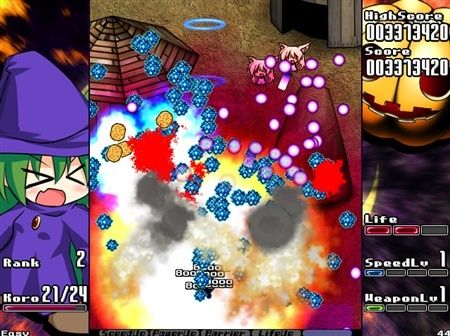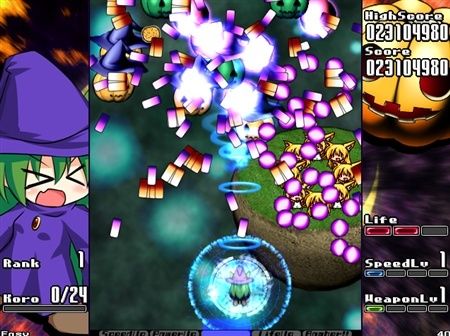 Controls
Arrow keys - Movement
Z key - Fire
X key - activate bonus item
Game Information
Game author - Inatsuka Hara
Game version - 1.00
Game created - 31/10/2012
File size - 20.2mb
File format - zip
Made with - Game Maker
Will play on - Windows 2000/XP/VISTA 32bit
Homepage
Japanese website
http://inatsuka.com
Game Page
Downloads are on the right hand side, orange pumpkin buttons, external links.
http://inatsuka.com/games/hw_itazura
If you scroll down past the orange pumpkin buttons you'll see 2 green buttons on the right hand side too. These are mini games but only download the first one as the second game is entirely in Japanese and you won't be able to understand a thing. The first mini game is called Korokke which is just a collect the falling goodies game for high score. Collect the treats that fall from a spinning vortex while avoiding the spiked hammers, 6.4mb.
_________________
Keep on gaming!
Consoles Currently Owned: Atari Lynx, Nintendo Gameboy Original, Gameboy Advance SP, Nintendo DSi, 3DS, Nintendo Wii, Micro Genius, Sega MegaDrive II, Sony PlayStation, PS2, Microsoft Xbox, Xbox 360.
http://freewaregames.forumotion.com/f1-freeware-games