Counterclockwise (7mb ver1.1 made 2006 by 16x16 and Whining Girl 2D, no install .zip) is a great 3D spacecraft puzzle game. It looks simple in design and plays simple, but that's what's great about it.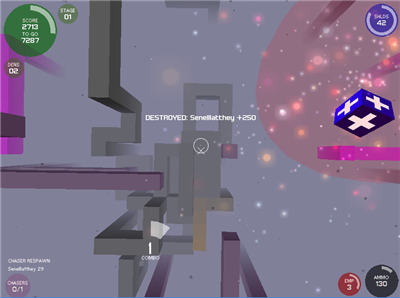 This freeware game was made for the Retro Remakes 2006 competition and is a remake of a 1983 Spectrum game "Knot in 3D". Your goal is to navigate a mass-trail propulsion craft through zero-G space and survive as long as you can. There are other crafts (chasers) around, trying to cut you off with their trails. Avoid crashing into trails and showoff some fancy flying and shooting skills for extra score. Maneuver around the trails of chaser crafts to perform tricks and score points and combo points. Eliminate chaser crafts for collectable bonuses.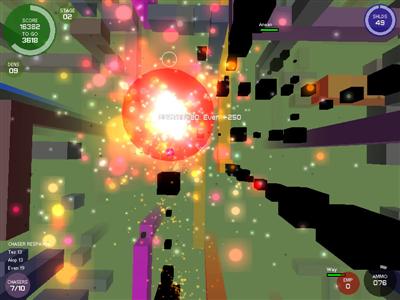 Requirements
Windows 95/98/2000/XP
CPU: 1GHz or faster
RAM: 256MB
Graphics card: OpenGL compatible, 32MB
Sound Card: DirectX compatible sound card
Controls
Turn Left - Arrow Left
Turn Right - Arrow Right
Turn Up - Arrow Up
Turn Down - Arrow Down
Boost - Middle Mouse Button
Fire - Left Mouse Button
EMP Blast - Enter
Mouselook - Right Mouse Button
Pause - Right CTRL
Use mouse to move cannon aiming crosshair. Hold down the right mouse button to look around by moving the mouse.
Homepage
http://www.16x16.org/index.php
Download Page
http://www.16x16.org/games
_________________
Keep on gaming!
Consoles Currently Owned: Atari Lynx, Nintendo Gameboy Original, Gameboy Advance SP, Nintendo DSi, 3DS, Nintendo Wii, Micro Genius, Sega MegaDrive II, Sony PlayStation, PS2, Microsoft Xbox, Xbox 360.
http://freewaregames.forumotion.com/f1-freeware-games