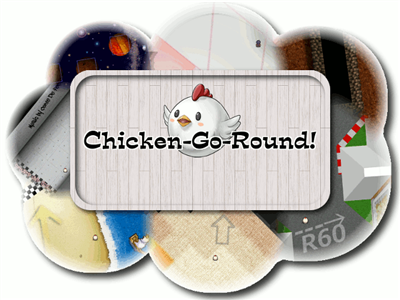 Chicken Go Round (15.4mb ver1.0 made 13/02/2014, no install .zip) is a fun 3 level top down view racer with 3 characters to choose from and 2 game modes, Full Race or Single Race. The 3 different characters have different speeds, from left to right, slow to fast. The slower your character, the easier it is to turn corners and around obstacles, the faster your character the harder it is. Simple really but a challenge to win races against the other 2, although possible once you learn the 3 short tracks which don't take long. They are only 3 lap races so within 5 minutes you'll finish the game. Quite a good game but it really needs some pickup bonuses on the tracks.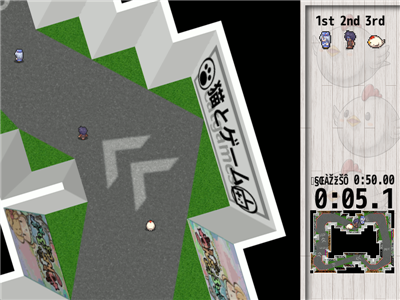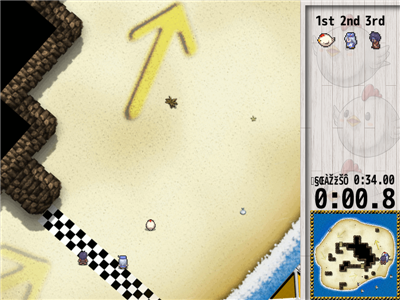 Controls
Arrow keys left and right - Movement left and right
Z key or Space bar - Accelerate
X key - Brake/Reverse
F4 key - Change game window size
F 12 key - Exit to game title screen
Homepage
Japanese website
http://higesusk.blog.fc2.com
Game Download Page
Japanese website
http://ux.getuploader.com/kamuikotan/download/64/Chicken-Go-Round!.zip
Click on the small grey rectangular box to download the game.
_________________
Keep on gaming!
Consoles Currently Owned: Atari Lynx, Nintendo Gameboy Original, Gameboy Advance SP, Nintendo DSi, 3DS, Nintendo Wii, Micro Genius, Sega MegaDrive II, Sony PlayStation, PS2, Microsoft Xbox, Xbox 360.
http://freewaregames.forumotion.com/f1-freeware-games