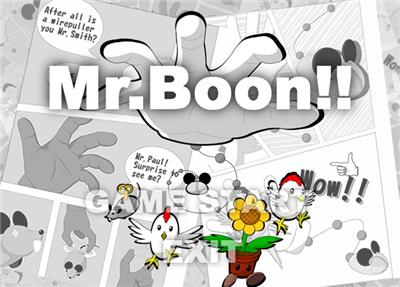 Mr Boon (9.7mb ver1.0 made 19/11/2006, no install .zip) is a nice Japanese 3d action arcade style game. You must move your computer mouse or use your touchpad to swing a hand on a chain to hit various objects and animals to score points. The objects and animals fall from the sky, just watch out where their shadows are as they may fall on top of you. Take out a certain amount without losing a life to continue to the next stage. Simple. addictive gameplay with pleasing 3D graphics for it's time and level Bosses will have you hooked for an hour or so.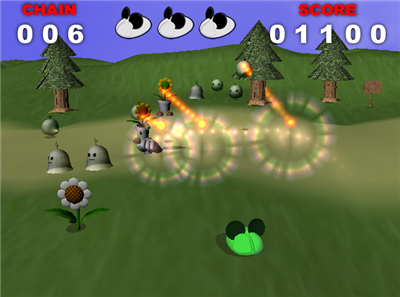 This freeware game should play on all Windows systems.
Controls
PC mouse or touchpad
Homepage
http://www.geocities.co.jp/shikanon2006/index.html
Extras cd lable, cd case inserts, comic, poster, wallpaper.
http://www.geocities.co.jp/shikanon2006/Extra.html
Game Download Page
Japanese Vector website
http://www.vector.co.jp/soft/dl/winnt/game/se415308.html
Click on the green Download Now button to download the game.
_________________
Keep on gaming!
Consoles Currently Owned: Atari Lynx, Nintendo Gameboy Original, Gameboy Advance SP, Nintendo DSi, 3DS, Nintendo Wii, Micro Genius, Sega MegaDrive II, Sony PlayStation, PS2, Microsoft Xbox, Xbox 360.
http://freewaregames.forumotion.com/f1-freeware-games