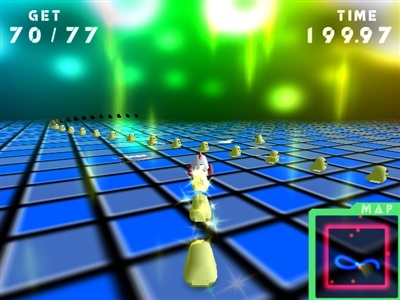 Parade Of Chicken (17.7mb ver1.0 made 13/12/2012 by ryotaLED, no install .zip) is a Japanese 3D snake clone with a chicken on wheels. It's only a 1 level game to beat your previous time. You do however get a password but I have yet to work out what that password is for. Visually it's nice and pleasing to the eye with a funky music soundtrack, this game could've been a whole lot more and definitely needs some more levels. The younger kids will get a kick out of this one, maybe.
This freeware game will play on most Windows systems.
Controls
Arrow keys left and right - Move left and right
Z key - Forward
X key - Jump
Esc key - Exit game
Homepage
http://ryotaled.web.fc2.com
Game Download Page
Japanese Vector website
http://www.vector.co.jp/soft/dl/winnt/game/se500507.html
Click on the green Download Now button to download the game.
_________________
Keep on gaming!
Consoles Currently Owned: Atari Lynx, Nintendo Gameboy Original, Gameboy Advance SP, Nintendo DSi, 3DS, Nintendo Wii, Micro Genius, Sega MegaDrive II, Sony PlayStation, PS2, Microsoft Xbox, Xbox 360.
http://freewaregames.forumotion.com/f1-freeware-games