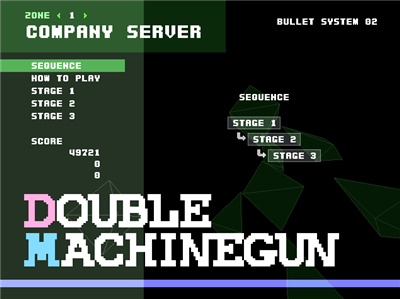 BS Double Machinegun (13.9mb ver0.8 made 02/03/2014, no install .zip) is a small Japanese arcade shooter with a difference. You control 2 automatic guns simultaneously. The guns fire automatically and you control aiming only. You really need to be ambidextrous and having 2 sets of eyes would also help. You need to destroy all objects, both moving and stationary that come into view scrolling down from the top of the grid. There are 4 Zones each containing 3 short levels, total 12 levels, plus a Sequence mode to play all 3 levels of each Zone together, although there is no difference between Sequence mode or playing each of the 3 levels separately. You do have a speed button for fast and slow acceleration and with practice you can use that button as well. A very good, solid shooting game with unique graphics, retro music, sound effects and fluid gameplay but I was left wanting to play more levels.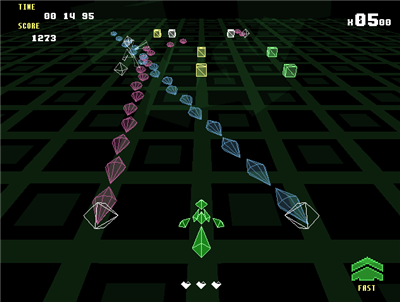 There is a way to beat most levels quite easily, but that's for you to work out. This freeware game should play on most Windows systems.
Controls
Z & C key - Controls left gun, left and right
Arrow keys left and right - Controls right gun, left and right
X key - Speed, fast or slow
Space bar - Pause game
Esc key - Exit game
Homepage
http://kamikazekoubou.game-waza.net
Game Download Page
Japanese Vector website
http://www.vector.co.jp/soft/dl/winnt/game/se505820.html
Click on the green Download Now button to download the game.
_________________
Keep on gaming!
Consoles Currently Owned: Atari Lynx, Nintendo Gameboy Original, Gameboy Advance SP, Nintendo DSi, 3DS, Nintendo Wii, Micro Genius, Sega MegaDrive II, Sony PlayStation, PS2, Microsoft Xbox, Xbox 360.
http://freewaregames.forumotion.com/f1-freeware-games