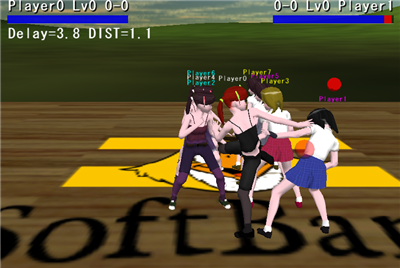 WFight Club (16.3mb, made 30/12/2010, no install .zip) is a half made 3D fighting game. It only has young woman fighting and you only seem to have a choice of 1 of the 8 players in the Demo game mode and the same for the Fight game mode (look in the bin folder for the 2 game modes). There doesn't seem to be a player 2 control system either, well at least not on the keyboard, maybe with a controller. In offline mode, which is the only mode that works, you are the only one willing to fight.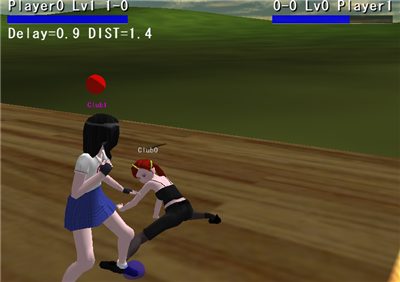 Originally it was an 8 player online fighting game or was made for online play but this project seems to have been abandoned. It's a shame as it could've had a lot of potential. The basic fighting game engine is there and with a few different backgrounds, bases, special combo 3D effects, some more sound effects and a storyline, this could been something really nice. What is offered in this freeware fighting game is just ok, nothing special. Just checked the game files and there seems to be 2 background sky images as well as 2 floor/base images. Not sure when they kick in.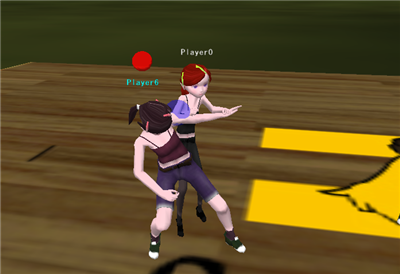 The fight button controls are a bit sketchy. You can only do some moves after completing another. The screenshots make this game look better than what it really is. Someone may get some enjoyment from it but it's not a keeper for me.
Controls
Arrow keys - Movement, run, grab, crouch, jump
Z key - Block
X key - Kick
C key - Punch
N key - ? changes from Player to Club
Mouse/touchpad and left click will move character around your opponent slightly.
Game Download Page
https://sites.google.com/site/wfightclub1/Resources
Game download is the first link.
_________________
Keep on gaming!
Consoles Currently Owned: Atari Lynx, Nintendo Gameboy Original, Gameboy Advance SP, Nintendo DSi, 3DS, Nintendo Wii, Micro Genius, Sega MegaDrive II, Sony PlayStation, PS2, Microsoft Xbox, Xbox 360.
http://freewaregames.forumotion.com/f1-freeware-games