Lock To Lock 3rd (27.6mb, ver1.0 made 30/01/2014, no install .zip) is an ok Japanese racing, drifting simulation with a difference. The game is set to automatically accelerate the car for you. You are in control of steering, braking and drifting only. There only seems to be one track but you do have a good selection of 10 sports cars of varying difficulty. You may even recognise some, if not all of the vehicles.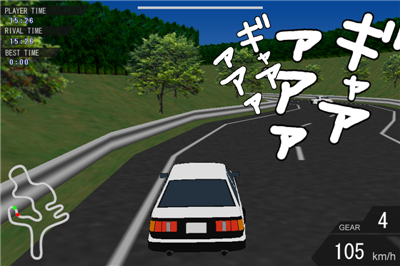 You must race one opponent for 1 lap and win. Once you win, you have the option to upgrade your car. Upgrading your car is a must. In the upgrade menu you can also choose 3 different sound effects for your car as well as a new paint colour scheme. I'm sure I heard a sound effect from either Sega Rally or Daytona USA... hmmm.
The car physics are quite good but you need to practice the braking and drifting. You can win most races without drifting. The 3D graphics are ok with some nice car sound effects as well. A few more tracks would've been nice and maybe a 3 or 4 car race. Be cautious to not have too many crashes or it's game over. 3 seems to be the maximum limit when hitting the track barriers with it being more tolerant with car vs car. Overall a nice game and hopefully more tracks and racing modes will be added to it. A good as it is currently with some nice features, it still feels incomplete. There seems to be the ability to load more cars and possible more tacks from the games options menu although don't quote me on this as I don't read Japanese code. Only the die-hard racing nuts out there will appreciate this freeware game.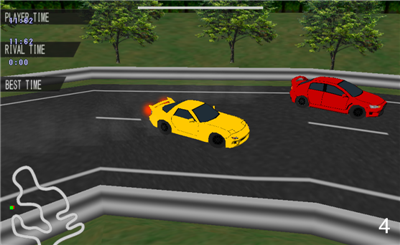 Controls
Arrow keys left and right - Steer car left and right
Arrow key up - Brake
Arrow key down - Drift
Game Download Page
Japanese Vector website.
http://www.vector.co.jp/soft/dl/winnt/game/se505552.html
Click on the green Download Now button.
_________________
Keep on gaming!
Consoles Currently Owned: Atari Lynx, Nintendo Gameboy Original, Gameboy Advance SP, Nintendo DSi, 3DS, Nintendo Wii, Micro Genius, Sega MegaDrive II, Sony PlayStation, PS2, Microsoft Xbox, Xbox 360.
http://freewaregames.forumotion.com/f1-freeware-games