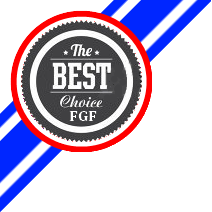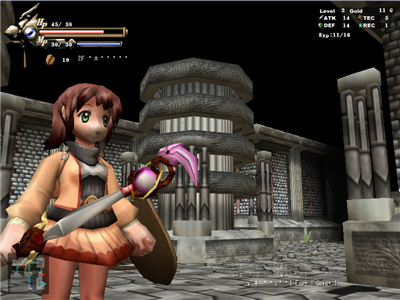 Madou Jingi (53.5, ver1.22 updated 31/01/2013 made by Crystal Light Stage, no install .zip) 10th Anniversary game and gold medal winner in the HSP Game Competition is a great 3D RPG. Even though this is in Japanese, you can easily play through the entire game as there is hardly any story line or choices to be made.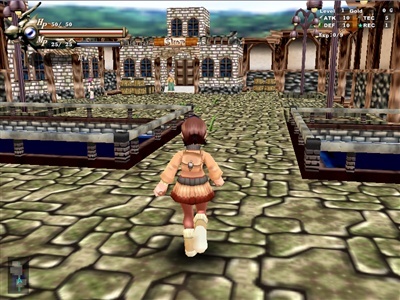 You play as Apprentice Mage hero Corona, the cute Japanese character who must find sacred treasures, collect grass herbs to boost your energy and magic berries, collect gems to place in your tablets and fight your way through various levels of the Temple. Clear successfully and Corona will become a regular Mage.
You have a map in the bottom left hand corner to see the areas of each level you've visited and see the red entry and exit points. Simple game controls with multi-combo attacks just with your space bar and movement keys make this game a joy to play. When you have locked on an enemy, hold down Space bar for a 360 degree sweeping kick which is 1.5 times the damage of a regular attack. This move is needed in the later stages where enemies will surround you. Keep an eye on the red ring around your character as it shows where the enemies are.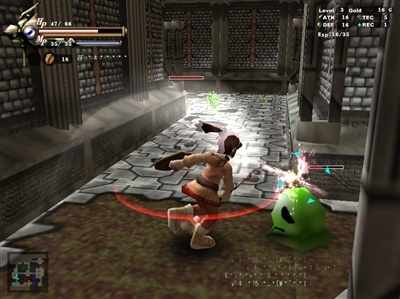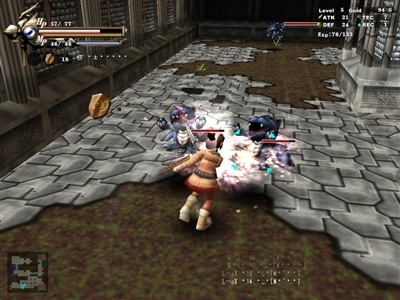 From what I have worked out, you need to collect the stone tables and their corresponding gem pieces and then place the correct gems in the tablets from your inventory/backpack. Ultimately this will give you more room in your backpack as you only have a limited amount of space. Apparently your unwanted or excess items can be left deposited in the warehouse of the town city, but I have yet to work that part out.The game starts off very easy and progresses to a medium difficulty after about the 5th level. The levels are small but enjoyable to play and has re-play value and if what I've heard is true, it has up to 100 levels to conquer. There are also magical sacred treasures to find. What else awaits you in the dark reaches of the Temple?!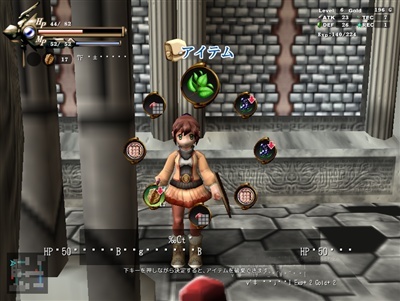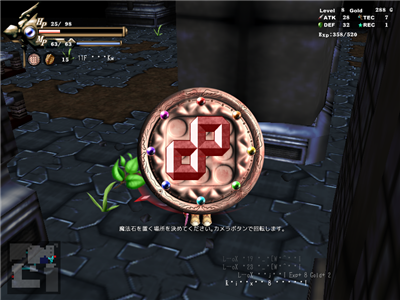 You will need a half decent PC with 3D card to play this game and it should work on most Windows systems. Well worth downloading.
Controls
Arrow keys - Menu and character movement
Keys W, S, A, D - Character movement
Q key - Move camera in
E key - Move camera out
Space bar - Menu select and action/fight
Ctrl key - Quick turn
Number 1 key - Opens inventory/backpack menu
Number 2 key - Opens special powers menu
Esc key - Exit game
Homepage
Japanese Vector wesite
http://hp.vector.co.jp/authors/VA029904/
Game Download Page
Japanese Vector wesite
http://www.vector.co.jp/soft/dl/winnt/game/se500008.html
Click on the green Download Now button.
_________________
Keep on gaming!
Consoles Currently Owned: Atari Lynx, Nintendo Gameboy Original, Gameboy Advance SP, Nintendo DSi, 3DS, Nintendo Wii, Micro Genius, Sega MegaDrive II, Sony PlayStation, PS2, Microsoft Xbox, Xbox 360.
http://freewaregames.forumotion.com/f1-freeware-games