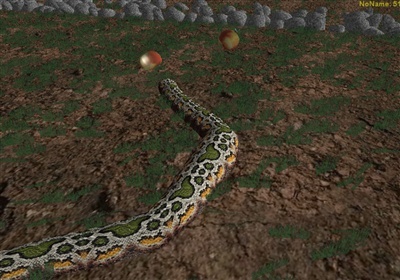 Snake World Game (2.69mb ver1.3 made June 2008, no install .zip/install .exe) is a remake of the classic Nokia Snake game that made it's appearance on the first Nokia mobile phone. A lot has changed since then, now in 3D with many snake skin textures, chat and online play. You may want to register if you would like to play online but it's not necessary.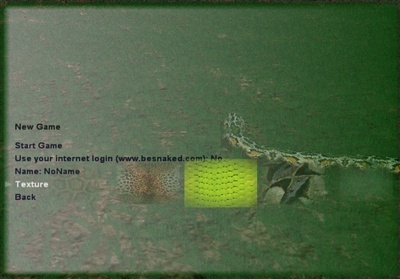 Most of us will remember the snake game or have played a version of the game over the years. Gameplay is still the same with your snake having to eat and grow. Do not touch the edges of the play area or yourself or it's game over. There didn't seem to be a speeding up of gameplay even after 15 minutes of play. I'm not sure sure if there is any speed increases as I lost interest as it was too easy in single player mode. Some enemies would have made it interesting.
One issue I did notice is that you will need to restart the game for some changed settings to take affect. Other than that, all good.
Controls
Arrow keys - Movement
Alt+F4 - Force exit
To Chat - Type something then press Enter key. The application does not send any private information, only system language ID is published.
Requirements
Minimum system requirements:
   Microsoft Windows XP SP2
   1GHz CPU
   512MB RAM
   DirectX9 Compatible 3D graphics card with pixel shader 2.0 and vertex shader 2.0
   broadband internet connection
Recommended system requirements:
   Microsoft Windows Vista/Windows 7
   1GHz CPU
   1GB RAM
   DirectX 10 compatible graphics card, ATI/nVidia
   broadband internet connection
Note:
   DirectX (at least November 2008) must be installed, please use "dxwebsetup.exe" (included) for the online installation,  see more on microsoft.com/downloads
   You need administrator rights to install the game.
Homepage
http://www.besnaked.com
Game Page
http://www.besnaked.com/snakeworld/download
_________________
Keep on gaming!
Consoles Currently Owned: Atari Lynx, Nintendo Gameboy Original, Gameboy Advance SP, Nintendo DSi, 3DS, Nintendo Wii, Micro Genius, Sega MegaDrive II, Sony PlayStation, PS2, Microsoft Xbox, Xbox 360.
http://freewaregames.forumotion.com/f1-freeware-games