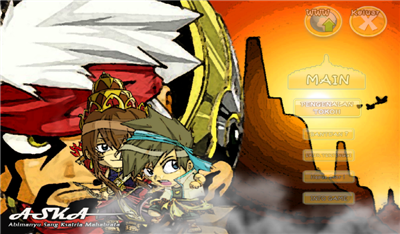 ASKA - Abimanyu Sang Ksatria Mahabrata (31.3mb, ver 1.1 made 2012 by David , no install .zip) is an Indonesian platformer game that's inspired by Java's Puppet art. First off I must say that I like the Indonesian touch and I think it's the first Indonesian game we've had on the Freeware Games Forum. Now to the business end. As far as platformers go this game has a couple of big problems. When jumping up to platforms you may get stuck or not even jump at all if you're not clear of it from underneath. Also falling off platforms, you'll find that you can be suspended in mid air with nothing below you and be stuck again. I wished this could be fixed, but judging from the game engine I don't think it's possible. The game developer may be able to improve it slightly but these problems will still be there. Overall I love the basic game style, graphics and music but for the true platform gamer, I don't think this will last long on your hard drive. I was hoping for so much more from the developers game screenshots.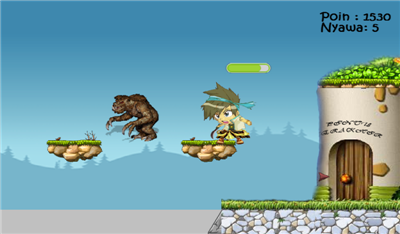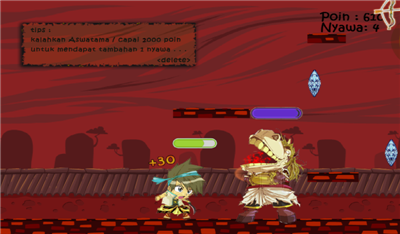 Requirements
System Requirements:
Windows 2000 / XP / Vista / 7, 32 bit (*64 bit: not tested)
Processor min. 1 GHz, 2 GHz (Recommended)
RAM min. 128 Mb, 512 (Recommended)
Screen resolution best viewed in 1024 x 768 (other resolutions: not tested)
Controls
Arrow keys - Left, right and jump
Space Bar - Slash
Alt - Fire arrows (must pickup bow first)
Ctrl - Pause
Esc key - Exit to game menu
Homepage
http://prasetyo.co.vu
Game Page and Download
http://prasetyo.co.vu/p/askagames.html
_________________
Keep on gaming!
Consoles Currently Owned: Atari Lynx, Nintendo Gameboy Original, Gameboy Advance SP, Nintendo DSi, 3DS, Nintendo Wii, Micro Genius, Sega MegaDrive II, Sony PlayStation, PS2, Microsoft Xbox, Xbox 360.
http://freewaregames.forumotion.com/f1-freeware-games