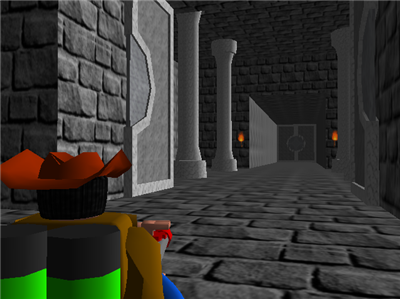 Water Labyrinth (9.1mb ver 1.03, released 09/04/2014, no install .zip) is a sweet little Japanese, 2 level, 3D maze puzzle freeware game. From what I can work out, you are an adventurer who needs to find his way out of the Labyrinth. You are equipped only with your water tanks on your back. This is an easy 3D puzzle game that won't keep you busy for long. This would have been better with a few more levels and increasing difficulty. I'm not going to tell you what to do in this game. You'll need to work it out for yourself

When you first start the game you will be asked if you would like to run the game in fullscreen mode, choose yes or no.
Controls
Mouse/Touchpad - Look around, turn. Also used when walking to change direction and view
W key - Walk forwards
S key - Walk backwards
A key - Strafe left/sidestep left
D key - Strafe right/sidestep right
Space bar - Start game. Jump
Left mouse button - Shoot water
Q key - Shoot water
Esc key - Exit game and return to menu screen
Game Download Page
Japanese Vector website
http://www.vector.co.jp/soft/dl/winnt/game/se505645.html
Click on the green Download Now button.
_________________
Keep on gaming!
Consoles Currently Owned: Atari Lynx, Nintendo Gameboy Original, Gameboy Advance SP, Nintendo DSi, 3DS, Nintendo Wii, Micro Genius, Sega MegaDrive II, Sony PlayStation, PS2, Microsoft Xbox, Xbox 360.
http://freewaregames.forumotion.com/f1-freeware-games