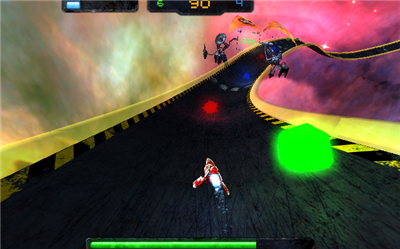 Musicracer (17.6mb, ver.1.0.1. made 2010, no install .zip) is an ok futuristic racer. Load your MP3 song for interactive, visualisations in-game that generates a unique racing track. Collect points and race to the end for maximum points. The longer the song, the longer the race. A beat detection algorithm places obstacles onto the track which can either be collected or be avoided depending on the selected game mode. There are 4 game difficulties, Easy, Medium, Hard and Insane.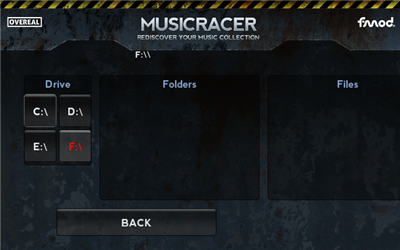 There are also 3 game modes:
Catch All - collect all green and blue beats for highest score.
Points - collect green and blue beats but avoid the red beats as they will take points off your score.
Hold Speed - collect all beats but the game will slow down if you miss too many beats. Being too slow will reduce your overall score.
Game downloads available for Windows and Mac. A 5 year old computer or newer is recommended with at least 2GB RAM for smooth gameplay however older computers may play it fine as it seems to auto detect your specs, you may be lucky. If you don't load an MP3 song from the menu, the game will not start.
Control
Mouse or keyboard arrow keys.
*The control sensitivity can be changed in the Pause menu (press the ESC key while playing). This will affect both mouse and keyboard sensitivity.
Homepage & Game Download
http://www.musicracer.de
_________________
Keep on gaming!
Consoles Currently Owned: Atari Lynx, Nintendo Gameboy Original, Gameboy Advance SP, Nintendo DSi, 3DS, Nintendo Wii, Micro Genius, Sega MegaDrive II, Sony PlayStation, PS2, Microsoft Xbox, Xbox 360.
http://freewaregames.forumotion.com/f1-freeware-games