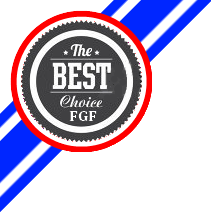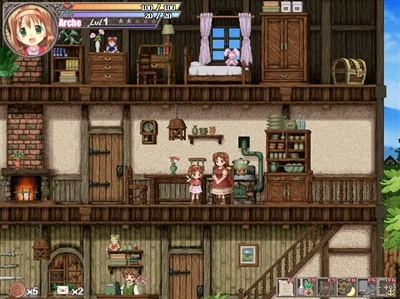 Fortune Summoners - Secret of the Elemental Stone (117mb, ver.1.2 made 2011, no install, English translation patch included, .7z file extension) is a wonderful RPG platform adventure game that I've just started playing. Not much to say about this yet but from what I've played of it, it's brilliant! A story line driven game as well as quests.
You play as a girl named Arche and she's just moved to a new village with her parents. She must soon go to her new school and she quickly finds out that she'll be going to the world's most famous magic school, which requires all students to own an elemental stone so they can do training with magic. In the beginning of the game it's just you as Arche but as the game progresses, you'll become a party of 3 which will help you in your quests with each having different powers and abilities.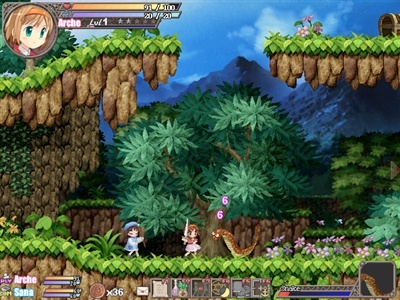 This game is packed full of fun and don't blame me if you get addicted to it. It will take me some time to master so I'll leave you all to it to play and enjoy. It should play on most Windows systems. Just make sure you have an app that unzips .7z files.
Controls
Arrow keys - Movement
Z key - Draw/Sheathe
(Arche), Flip Through Pages in Current Spell Book (Sana/Stella). Arche is the only one who can push heavy objects, and she must sheathe her sword first so she can use both hands for the task.
Sana/Stella can alternately instantly select a particular spell with the number keys.
X key - : Physical Attack
Arche is the only one who learns new physical skills, but Sana and Stella both have some D-Pad + Attack moves that cast no-cost base magic as well.
C key - Jump
Girls can NOT double-jump.
V key - Examine
Arche auto-sheathes when you examine anything.
A key - Change Characters
Arche > Sana > Stella > back to Arche
D key - Open Menu
F key - Use Healing Item (QuickHeal)
NumPad Enter - Change Spell Books (Sana/Stella)
Homepage
http://lizsoft.jp
Game Page
http://lizsoft.jp/fs/
Game Download Page
(English patched game)
https://mega.co.nz/#!dU1wiBiS!RJiBIh33IcWb-fVk-hqjpBDiBcc0lQB8kWDLFJ57UX4
_________________
Keep on gaming!
Consoles Currently Owned: Atari Lynx, Nintendo Gameboy Original, Gameboy Advance SP, Nintendo DSi, 3DS, Nintendo Wii, Micro Genius, Sega MegaDrive II, Sony PlayStation, PS2, Microsoft Xbox, Xbox 360.
http://freewaregames.forumotion.com/f1-freeware-games