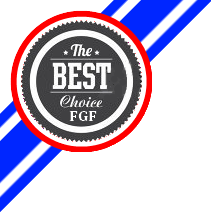 Genetos (26.9mb ver.1.0, made 2009,no install .zip) is a great little Japanese vertical shoot'em up made by Tatsuya Koyama.  The theme behind this shooter was to show the evolution of shooters from games like Space Invaders to the present day Bullet Hell Shooters. Although not true to any of the original games it's still a fantastic shooter that most gamers will get enjoyment from. The options menu is packed with many options with graphic effects being the main feature. This freeware game should run on most Windows systems even if you have a basic DirectX video card.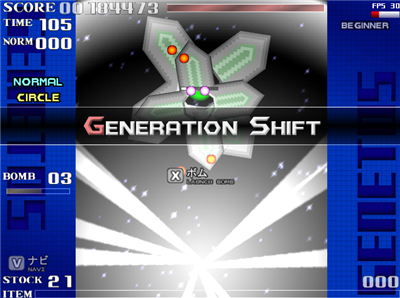 You should be able to complete it in about 20 minutes on beginner difficulty. Once you complete the game you will be rewarded with a code and also the Free Play mode where almost everything is unlocked from unlimited lives, level, stage, ships, shot power, ship speed and heaps more. You can even save your gameplay. Genetos has nice short, quick levels with Bosses and easy gameplay, heaps of replay value here for any gamer. 2 thumbs up from me and a recommended download. This is what gaming's all about.
SPOILER. The screenshot below contains a password:
Controls
Arrow keys : Move ship / Move cursor
Z key - Shoot / Decide
X key - Launch a Bomb (at level 3 or higher) / Cancel
L-Shift - Sub-weapon & Move slowly (at level 4 or higher)
L-Ctrl - Move slowly (at level 4 or higher)
V - View the Navigation
Space - Toggle pause mode
ESC : Shutdown game
1 - Reboot game
F1 - Change Fullscreen / Window mode
F2 - Change window size
F3 - Toggle Mute mode
F4 - Toggle Negaposi mode (Reverse the screen color)
F5 - Toggle Motion blur mode
G - Display Collision Area
L - Display Enemy's Life Gauge
B - Apply Motion blur while holding the key
Game Download
http://www.mediafire.com/?qqs84ammory3qht
_________________
Keep on gaming!
Consoles Currently Owned: Atari Lynx, Nintendo Gameboy Original, Gameboy Advance SP, Nintendo DSi, 3DS, Nintendo Wii, Micro Genius, Sega MegaDrive II, Sony PlayStation, PS2, Microsoft Xbox, Xbox 360.
http://freewaregames.forumotion.com/f1-freeware-games