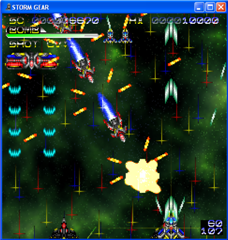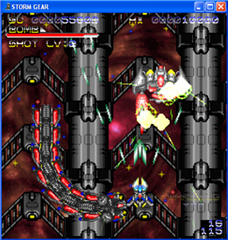 Storm Gear (19.7mb, .zip no install) is a full on Japanese vertical shooter as most of them are but this one seems harder as there's not much of an area to move away from attacks, seems a bit cluttered. Apart from that gripe it's the usual shooting action with Boss levels.
There's also a detailed settings screen before you start the game although it's in Japanese. The only setting I was interested in was the resolution and window/non-window mode. See pic below. To set your resolution, click on the top middle button and select from the drop down menu.
Controls
Keyboard
Arrow keys: Player move
Z key: Shot (Select)
X key: Bomb (Cancel)
Space Key: Pause
Mouse mode
Left single-click: Shot (Select)
Left double-click: Bomb
Requirements
Windows 2000, XP, Vista, 7, 8.
DirectX
Microsoft .NET Framework 3.5
Homepage
http://www7a.biglobe.ne.jp/~bp-827z/asd
Game Page
http://www7a.biglobe.ne.jp/~bp-827z/asd/products/storm_gear
There are 2 download sites as well as 2 flash game pages to play the game directly online.
Download Page
(Japanese download sites)
http://www.vector.co.jp/soft/dl/winnt/game/se504835.html
Click on green download button towards the bottom of the page.
_________________
Keep on gaming!
Consoles Currently Owned: Atari Lynx, Nintendo Gameboy Original, Gameboy Advance SP, Nintendo DSi, 3DS, Nintendo Wii, Micro Genius, Sega MegaDrive II, Sony PlayStation, PS2, Microsoft Xbox, Xbox 360.
http://freewaregames.forumotion.com/f1-freeware-games